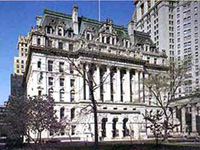 An executor or administrator is responsible to complete estate settlement.  There are many aspects to settling an estate.  The fiduciary must identify estate assets and actively seek to collect the assets.  Additionally, an estate representative must ascertain the various debts and claims which may be outstanding.  Also, expenses of administering an estate must be paid.  These expenses include various costs such as amounts needed to protect assets and to pay attorneys' fees and accountant fees.  There may also be costs associated with the sale of assets such as a house.
The fiduciary is obligated to perform these tasks for the benefit of the estate as a whole and cannot favor one beneficiary over another.  There is a fiduciary duty to act properly to avoid a breach of fiduciary duty.  The Estates, Powers and Trusts Law Section 11-1.1 entitled "Fiduciaries:  Powers, Duties and Limitations" provides various rules in this regard.  The New York Probate Lawyer Blog has published many articles concerning the role of an administrator, executor and trustee.
As noted earlier, a fiduciary must pay estate expenses.  While expenses are paid from estate assets, sometimes there are not enough liquid assets to allow for payment.  In such a case, assets may need to be sold.  While in many cases, the sale of assets such as a house owned by a decedent may be a straightforward transaction, this is not always so.  An interesting situation recently arose in an Erie County estate.  Matter of Manchester, which was decided by Erie County Surrogate Acea M. Mosey on August 18, 2022, involved a proceeding to settle the accounting of the executor.  One of the issues concerned the real estate which was owned by the decedent.  The decedent's Last Will and Testament had specifically devised the property to his daughter.  Although the decedent died in 2013, the deed transferring the property to the daughter was filed in 2018.  The problem, however, was that at the time of the deed transfer, there were extensive unpaid estate claims and administrative expenses.  The real property was the only estate asset which could be used to pay these expenses.