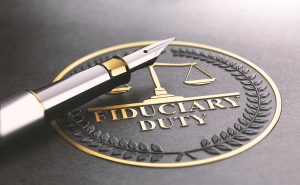 The acceptance of an appointment as a New York estate Executor or Administrator requires that an individual carry out responsibilities.  The failure to act in a responsible manner could subject a fiduciary to damages for breach of fiduciary duty.  Provisions contained in the Estates, Powers and Trusts Law and the Surrogate's Court Procedure Act describe various courses of conduct concerning which an executor or administrator should or could be engaged.  For example, EPTL Section 11-1.1 entitled "Fiduciaries' powers" lists various powers which a fiduciary can exercise when administering an estate.  When a fiduciary does not use his authority in the best interest of the estate, a duty may be breached.  The New York Probate Lawyer Blog contains many articles describing estate administration and the conduct of administrators, executors and trustees.
One of the jobs of a fiduciary is to protect and collect assets.  Sometimes, the decedent's property may be held by a third party or even misappropriated prior to the decedent's death.  In these cases, it is the responsibility of the fiduciary to recover the assets for the benefit of the estate.  SCPA 2103 entitled "Proceeding by fiduciary to discover property withheld or obtain information," provides a procedure for the recovery of estate assets.  My blog has discussed this estate law in a number of previous articles.  A recent Queens County estate case decided by Queens Surrogate Peter J. Kelly dated September 1, 2022 entitled Matter of Stanka Sucich involved a proceeding for the turnover of assets.  In Sucich, the estate administrator sought to recover assets from respondents who had been the decedent's home health aide and a driver / chauffer.  The major assets sought to be recovered were funds in excess of $200,000.00 which had been transferred before death from the decedent's individual bank account into an account in the name of the decedent and the home health aide.  When the decedent died, the entire fund was transferred by the home aide into her own name.
Sucich contains an excellent statement of the legal aspects involved in reviewing such a transfer.  For example, the Court noted that once there was a demonstration that the funds belonged to the decedent and were then transferred to a third party, the burden was on the third party to show that the transfer was a valid gift.  A gift requires a showing of intent.  Also, since there appeared to be a confidential relationship between the decedent and the home health aide, there was a need to show that the transfer was fair and understood and free from undue influence.