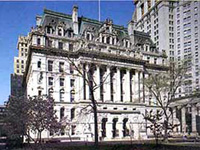 Estate planning in New York is important for the proper disposition of a person's assets.  Planning an estate encompasses a broad array of considerations.  The New York Probate Lawyer Blog has published many articles on this topic.  Initially, the preparation of a Last Will and Testament is the central document when creating a plan.  A Will disposes of assets that are owned by a testator at death in his name alone.  Thus, assets which pass automatically to others by operation of law such as joint property or items which have designated beneficiaries such as retirement accounts, life insurance or other pay on death funds, are not generally controlled by the terms of a Will as long as the beneficiary survives a decedent.
In view of various rules regarding property disposition, it is imperative that any estate plan take into account the ownership and title of assets which are intended to be disposed of under a Will.  A recent Manhattan estate case, decided by Manhattan Surrogate Rita Mella on February 23, 2023 entitled Estate of McAulay, demonstrates the issues that may arise when a decedent's asset ownership conflicts with the provisions of a Will.
In McAulay, the terms of a Will provided for equal distribution of a portion of the decedent's residuary estate to four (4) individuals.  At the time of death, the decedent owned certain California real estate with one of the beneficiaries as joint tenants.  As a result, the California property passed to the joint owner by operation of law outside of the Will.  An issue was raised as to whether the value of the California real estate should reduce the amount of the share of the residue the beneficiary was to receive.