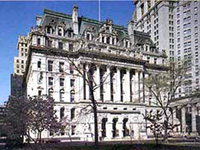 The preparation and execution of estate planning documents typically occurs in the State where a person maintains their primary home.  Such location is referred to as a person's domicile.  Domicile is distinguishable from mere residence.  Someone can have multiple residences, but can have only one domicile.
Estate planning papers can include a Last Will and Testament and a living or revocable trust.  Other documents, such as advance directives like Health Care Proxies and Powers of Attorney may also be created.
It is not unusual for a person to prepare various papers in an estate plan and then move their home to another State or even another country.  Nowadays, after the pandemic and the advent of virtual employment, a person's domicile or permanent home may change over time.  In situations where there has been a change of domicile, the issue may arise as to the validity of a Will or Trust which was prepared and executed in another state.  It is quite common to see a Will or Trust which needs to be presented to a New York Court which was prepared and signed in another State.  Often these documents, particularly a Trust, contain language which states that the document is to be interpreted and controlled by the laws of the State of origin.
A recent Ulster County estate case entitled In the Matter of the Estate of Daniel Duhl, decided by Ulster Surrogate Sara W. McGinty on June 13, 2023, concerned the issue of an out of State Will and Trust.  In Duhl, a New York decedent left a pour-over Will and a Revocable Trust which were prepared and signed in Virginia.  The probate proceeding was filed in New York.  A Court-appointed Guardian ad Litem ("GAL") objected to the New York probate of the out-of-State Will and the effectiveness of the Trust on a number of grounds.  The Court rejected an Objection to the form of notary acknowledgement which appeared on the Trust.  The Court found that the acknowledgement was valid under Virginia law, and thus, the Trust was properly acknowledged.
Another Objection related to an issue as to whether an amendment and restatement of the Trust revoked the original Trust whereby the Trust would not have been found to have been created contemporaneously with the Will.  The Surrogate analyzed this issue and determined that the amendment did not reflect an intent to revoke the initial Trust.  Ultimately, the Court found both the Trust and the Will to be valid and dismissed all of the Objections to the Virginia documents.  The Will was admitted to probate.
As can be seen from Duhl, estate settlement can be complicated by the nature of various documents signed by a decedent.  It is a good practice to have new planning papers created when a person moves to another State.  When this does not occur, various issues can arise and estate litigation may occur.
I have represented persons in planning and Surrogate's Court cases for over forty (40) years.  Do you have a question regarding an estate or guardianship matter?  Call Me Now for a free confidential review of your estate matter.  We offer reasonable and flexible fee arrangements and personal representation.
New York Trusts and Estates Attorney Jules Martin Haas has helped many clients over the past 40 years resolve issues relating to guardianship and probate and estate settlement throughout New York City including the Bronx, Queens, Brooklyn, Manhattan, Nassau and Suffolk County.  If you or someone you know has any questions regarding these matters, please contact me at (212) 355-2575 for an initial free consultation.