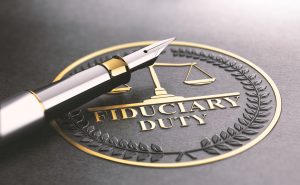 When proceedings are filed in Surrogate's Court regarding a decedent's estate, the primary focus is inevitably on the person who is, or is seeking to be, the estate fiduciary.  In cases of intestacy, there may arise issues regarding the qualification of the individual seeking to be appointed as administrator.  Similarly, if the decedent died leaving a Last Will and Testament, the person applying to be appointed as executor also must meet certain qualifications.
It is not usual for other family members or interested parties to file objections with the Court regarding the appointment of the petitioning party.  These issues may also arise during the course of estate settlement where persons who are estate beneficiaries seek to remove an already-appointed fiduciary due to claimed wrongdoing or breach of fiduciary duty.  Such alleged conduct can include loss or waste of estate assets, undue delay in settling estate affairs or conflicts of interest regarding the disposition of assets or inequitable treatment of beneficiaries' interests.
In all of these types of cases, the Court is very cautious regarding the disqualification or removal of an administrator or executor.  There is great preference afforded to the choice of a fiduciary, such as an executor, by a decedent.  Also, there is a statutory designation as to whom has priority to be appointed as administrator of an intestate estate.
In most instances, the Surrogate's Court will allow the designated fiduciary to serve unless it is presented with clear and specific supporting evidence of impropriety.  In many cases, the allegations presented are based upon speculation, conclusion and supposition.  While it may seem to the objectant that the objectant's subjective views and feelings should be enough to eliminate a person from serving as an executor or administrator, such assertions will fail to persuade a Court.
Such was the situation in a recent Bronx estate case entitled Estate of Benedek, decided by Bronx Surrogate Nelida Malave-Gonzalez on April 25, 2023.  In Benedek, the decedent's two children were the estate beneficiaries and the son sought to probate the Will.  The daughter objected to the son's appointment as executor.  There were a plethora of complaints, many of which were repeated from an Article 81 guardianship which had preceded the decedent's death.  The Court reviewed all of the claims and found that many of the daughter's complaints had been alleged in the guardianship proceeding and that they were found to not have merit.  Also, the Court recognized the preference to appoint the person selected by a decedent and that various complaints did not rise to the level to require disqualification.  Ultimately, the Court noted that any lingering objections regarding the fiduciary's performance could be addressed in an accounting proceeding.
As can be seen from Benedek, the interaction between estate beneficiaries and a fiduciary can be contentious.  For more than 40 years, I have represented clients as an estate attorney in all types of Surrogate's Court cases and also as a guardianship attorney in Article 81 guardianship cases.  Do you have a question concerning these matters?  Call Me Now for a free confidential review of your matter.  We offer reasonable and flexible fee arrangements and personal representation.
New York Trusts and Estates Attorney Jules Martin Haas has helped many clients over the past 40 years resolve issues relating to guardianship and probate and estate settlement throughout New York City including the Bronx, Queens, Brooklyn, Manhattan, Nassau and Suffolk County.  If you or someone you know has any questions regarding these matters, please contact me at (212) 355-2575 for an initial free consultation.