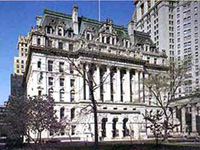 The process of administering an estate in the Surrogate's Court may involve numerous proceedings.  Initially, it may appear that only two main proceedings exist when a person dies.  One type of proceeding is called probate.  This situation arises when a person leaves a Last Will and Testament.  A Will must be admitted to probate in order for its provisions to take effect.
Another type of proceeding is known as administration.  This occurs when a person dies intestate – without leaving a Will.  In these cases, the decedent's next of kin are designated in the estate laws to receive a share of the estate.
While these two proceedings dominate what is typically viewed as an estate case, there are numerous other proceedings which may occur in Surrogate's Court.  For example, a person may commence a proceeding to compel a third party to file a Will with the Court.  Also, before an estate is settled, there may need to be a kinship proceeding to determine a decedent's heirs.  Kinship cases can take place inside both probate and intestate administration matters.  Additionally, an accounting proceeding may be needed to finalize an estate and determine the shares of an estate to be distributed.
Another very important proceeding is provided by Surrogate's Court Procedure Act Section 2103 entitled "Proceeding by fiduciary to discovery property withheld or obtain information."  This proceeding along with the provisions in SCPA 2104 entitled "Inquiry; trial and decree" allow a fiduciary to seek the recovery of a decedent's assets from a third party.  The New York Probate Lawyer Blog has previously posted a number of articles concerning turnover proceedings.  Interestingly, SCPA Section 2105 entitled "Proceeding to compel delivery of property by a fiduciary which is claimed by another or others" allows a third party to obtain recovery of assets from an estate fiduciary.  This is commonly known as a reverse turnover proceeding.
A recent Queens estate involved a SCPA 2103.  The case was Estate of Ziegel which was decided by Queens Surrogate Peter J. Kelly on April 12, 2023.  In Ziegel, an estate fiduciary sought recovery from another family member of assets which were allegedly transferred by the decedent about four years prior to his death.  The Court reviewed at length the various claims and causes of action such as fraud and lack of capacity, which formed the basis for the claim for a turnover.  The Court determined that the substantive assertions, for the most part, lacked any evidentiary basis.  However, the Court also found that the statute of limitations associated with the claims had expired.  Since the claims and turnover proceedings had exceeded the limitations period, the Court dismissed the proceeding.
Estate litigation in the Surrogate's Court can be difficult for individuals who are unfamiliar with estate proceedings and estate statutes.  Guidance from an experienced trust and estate lawyer can be essential.  I have represented clients in estate cases throughout New York for over 40 years.  Do you have a complicated or problematic estate issue?  Call Me Now for a free confidential review of your matter.  We offer reasonable and flexible fee arrangements and personal representation.
New York Trusts and Estates Attorney Jules Martin Haas has helped many clients over the past 40 years resolve issues relating to guardianship and probate and estate settlement throughout New York City including the Bronx, Queens, Brooklyn, Manhattan, Nassau and Suffolk County.  If you or someone you know has any questions regarding these matters, please contact me at (212) 355-2575 for an initial free consultation.