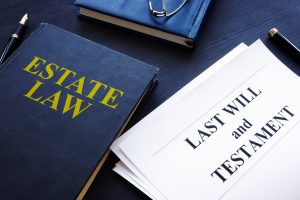 There are many different rights which appear in the New York Trust and Estate laws.  The basic statutes concerning estate law and procedure are contained in the Estates, Powers and Trusts Law (EPTL) and the Surrogate's Court Procedure Act (SCPA).
A surviving spouse of a decedent benefits from a number of provisions in the estate laws.  For example, if a person dies intestate (without a Last Will and Testament), EPTL 4-1.1 entitled "Descent and distribution of a decedent's estate," provides that a surviving spouse is entitled to receive, essentially, one-half of a decedent's estate if there are also surviving children.  In the event no children are surviving, then the spouse has top priority and inherits the decedent's entire estate.
SCPA 1001 entitled "Order of priority for granting letters of administration," is another provision where a spouse has priority benefits.  This statute provides that a spouse is to be appointed as the administrator of an intestate estate before any other heir.  The New York Probate Lawyer Blog contains many articles discussing executors and administrators and estate settlement.