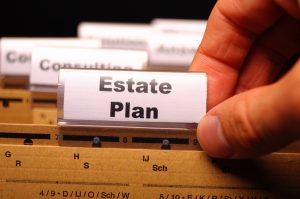 After the death of an individual, the usual course is to proceed to have a fiduciary appointed to represent the decedent's estate.  This is necessary in order to have someone who has the legal authority to collect the decedent's assets, pay estate expenses and obligations and ultimately, distribute the net estate to beneficiaries.
In some cases the individual would have left a Last Will and Testament, which must be probated.  This results in the appointment of an executor.  If there is no Will, a proceeding needs to be commenced to have an administrator appointed.  Whether an executor or administrator is given authority by the Surrogate's Court, someone receives the right to act on behalf of the estate.
It is not always known that a decedent's estate, at least in New York, is not recognized as a separate legal entity.  The nature of a decedent's post-death proceedings flow from the existence and authority given to the appointed fiduciaries.  Without the appointment of a representative for the estate, there is no one to act for the decedent and no one against which actions can be taken regarding the decedent's affairs.
The above is a reality that is not commonly recognized.  In the recent case of DuBois v. Beaury, in which a lawsuit was commenced in the United States District Court for the Northern District of New York, the plaintiff's failure to understand this concept led to the dismissal of his case.  In DuBois, the plaintiff commenced his lawsuit which named the defendant as "the Estate of Harry Corbitt."  Mr. Corbitt died a domiciliary of Georgia and he had no property in New York.  Mr. Corbitt's widow asked the Court to dismiss the case.  In an opinion dated November 30, 2020, United States District Judge Frederick Sullivan granted the dismissal.
The Court found that under New York law an estate is not a legal entity.  A Court action or estate litigation needed to be commenced against the appointed fiduciary such as an executor or administrator.  Additionally, the Court found that the decedent was domiciled in Georgia and had no New York property.  As a result, there was no jurisdiction in New York even for the appointment of a Public Administrator.  A Public Administrator is a governmental official acting in each New York county who is given the responsibility of representing estates where no other qualified person has sought or been granted appointment as a fiduciary.  Surrogate's Court Procedure Act Section 1001 entitled "Order of priority for granting letters of administration" provides for the appointment of a Public Administrator in certain cases.  Thus, the District Court refused to delay the dismissal of the case pending such appointment.
The DuBois case is very interesting and demonstrates the complexities involved in handling estate matters and litigation for and against decedents.  Matters concerning the settlement of an estate can take place in the Surrogate's Court and also in other State and Federal Courts.  I have represented many estates in contested proceedings in various Courts including Surrogate's Court, New York State Supreme Court, and New York City Civil Court, which includes Landlord-Tenant Court.  Call Me Now for a confidential review if you have a question regarding a decedent's estate or a guardianship case.  We provide reasonable and flexible fee arrangements and personal representation.
New York Trusts and Estates Attorney Jules Martin Haas has helped many clients over the past 40 years resolve issues relating to guardianship and probate and estate settlement throughout New York City including the Bronx, Queens, Brooklyn, Manhattan, Nassau and Suffolk County.  If you or someone you know has any questions regarding these matters, please contact me at (212) 355-2575 for an initial free consultation.