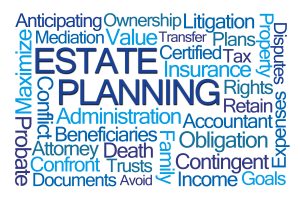 Preparing and probating a New York Will is important in order for a testator to effectuate an estate plan.  There are many considerations that an individual needs to consider when planning an estate such as how assets are to be distributed and the identity of the beneficiaries who are to receive dispositions under the Will.  Guidance from an experienced estate lawyer regarding these matters should be sought.
There are many subtle and not generally thought-of issues which may have some impact on a plan and the ultimate probate of a Will.  A few of these matters are discussed in this blog post.  One such issue concerns the proper execution of a Last Will.  Estates, Powers and Trusts Law Section 3-2.1, entitled "Execution and attestation of wills; formal requirements," provides the basic rules regarding execution.  Among these guidelines is that there must be at least two (2) attesting witnesses.  Nowadays many people prepare a Will from online forms and without the assistance of legal counsel.  An important rule to know is that if an attesting witness receives a disposition in the Will, he may need to forfeit his inheritance unless there are two other witnesses who do not receive a benefit under the Will.  This rule is provided in EPTL 3-3.2 entitled "Competence of attesting witness who is beneficiary; application to nuncupative will."  The statute provides a number of additional rules and exceptions.  However, in view of the general prohibition, it is always best to have completely disinterested persons act as attesting witnesses so as to avoid any possible problems when it comes time to probate the Will.  The New York Probate Lawyer blog has many articles dealing with probate issues.
Another matter that should be recognized is that sometimes a Will contains what is known as a No Contest Clause or in terrorem clause.  This language in a Will provides that a beneficiary forfeits his disposition if he contests the Will.  Many individuals include this type of provision in a Will in the hope that it would discourage a discontented party from filing a Will Contest due to the prospect of forfeiting their inheritance if they lose the Court case.  The use of a no contest clause is controlled by EPTL 3-3.5 entitled "Conditions qualifying dispositions; conditions against contest; limitations thereon."  However, the statute provides certain exceptions to the general rule of forfeiture.  For example, if there is probable cause, the condition does not apply if there is a contest based upon forgery or to show that a decedent left a later Will.  Also, a no contest clause does not prevent the initial discovery allowed by Surrogate's Court Procedure Act Section 1404 which permits the examination of the Will witnesses, the Will draftsperson and the nominated executor and Will proponent.  In view of these and other exceptions to a no contest clause, a testator may want to consider other alternatives to avoid a Will challenge such as setting up asset beneficiary designations or a Living Trust.
As can be seen from the above examples, there are many technical and sometimes not apparent issues involved with planning an estate and probating a Will.  I have assisted clients with these matters for over four decades.  Call Me Now for a free confidential review of your probate or estate question.  We provide reasonable and flexible fee arrangements and personal representation.
New York Trusts and Estates Attorney Jules Martin Haas has helped many clients over the past 40 years resolve issues relating to guardianship and probate and estate settlement throughout New York City including the Bronx, Queens, Brooklyn, Manhattan, Nassau and Suffolk County.  If you or someone you know has any questions regarding these matters, please contact me at (212) 355-2575 for an initial free consultation.