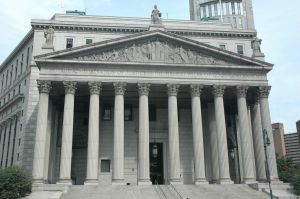 It is not unusual that after an executor or administrator is appointed by the Surrogate's Court that he or she finds out there is estate litigation to contend with.  For instance, the decedent may have left numerous debts which are unpaid and the creditors may decide to bring lawsuits to collect what is claimed to be due.
In other cases, a decedent may have been involved in a business or real estate transaction in which complex issues regarding claims or estate assets may be involved.  Problems arise when lawsuits are initiated or have been pending in Courts other than the Surrogate's Court.  While creditors are allowed to file claims against an estate in the Surrogate's Court, there are many instances where lawsuits might be instituted in other Courts, such as the New York State Supreme Court.
The problems faced by an estate fiduciary is that a law action that is pending in a Court different than the Surrogate's Court may involve issues directly related to the administration of a decedent's estate.  Moreover, if there are a number of related lawsuits going on in different Courts, there may be overlapping and duplicative Court proceedings such as discovery or motions or even trials and hearings.
I have been involved in cases with multiple Court matters.  In one case, I represented an estate administrator in an estate in which the primary asset was a valuable piece of commercial property.  A real estate broker commenced an action against the estate in the New York Supreme Court seeking to collect brokers' commissions.  In cases like this the New York Civil Practice Laws and Rules provides a convenient remedy.  CPLR Section 325(e) allows for the removal or transfer of a case from the Supreme Court to the Surrogate's Court when the matter affects a decedent's estate.
CPLR Section 326(a) provides that the Court can stay or put a hold on the pending Court proceedings while it decides whether to transfer the case.  These statutes are very useful since many Court cases against a decedent's estate affect beneficiaries' interests and it may be helpful to have the Surrogate oversee the outcome in all matters.  Also, duplicative Court proceedings may be avoided.
In regard to the broker commission case referred to earlier, I was able to obtain an Order from the Supreme Court Judge transferring the case to the Surrogate's Court.
Litigation in the Surrogate's Court, and for that matter, in all Courts, can become very involved especially where different Courts are hearing matters related to a decedent's affairs.  I have represented clients in many different estate disputes including Will contests, kinship matters and recovery of estate assets, to name a few.
Call Me Now for a free confidential review of your estate issue.  We provide reasonable and flexible fee arrangements and personal representation.
New York Trusts and Estates Attorney Jules Martin Haas has helped many clients over the past 40 years resolve issues relating to guardianship and probate and estate settlement throughout New York City including the Bronx, Queens, Brooklyn, Manhattan, Nassau and Suffolk County.  If you or someone you know has any questions regarding these matters, please contact me at (212) 355-2575 for an initial free consultation.