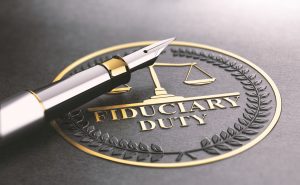 The Surrogate's Courts in New York appoint estate Executors and Administrators and Trustees. These appointments make the appointee a fiduciary. As a fiduciary, the person has many obligations and duties. Any failure on the part of an appointee may result in a breach of fiduciary duty.
In general, a fiduciary has an obligation to collect and to protect assets, pay various expenses and other obligations such as taxes, and to provide payments to or on behalf of the beneficiaries. At times there may be lawsuits that must be defended or commenced in the course of administrating the assets of the estate or trust.
There is also an obligation to treat beneficiaries fairly and for a fiduciary not to engage in self-dealing or benefit himself from his fiduciary position. Conflicts of interest should always be avoided. A fiduciary is required to provide a full accounting of his transactions to the beneficiaries.
When an Executor, Administrator or Trustee acts improperly the Court may revoke his appointment. A hearing is usually required but sometimes the Court may act summarily to protect the beneficiaries' interests.
Recently, in a Brooklyn estate case entitled Estate of Sullivan, decided by Brooklyn Surrogate Margarita Lopez Torres on December 20, 2019, a Co-Executor of an estate was removed and Letters Testamentary revoked. In Sullivan, the Court referred to Surrogate's Court Procedure Act Section 711 which is entitled "Suspension, modification or revocation of letters or removal for disqualification or misconduct." After reviewing the facts, the Surrogate found that the Co-Executor had neglected her fiduciary duties which had interfered with the efficient settlement of the estate. The Co-Executor also failed to adequately refute the allegations that she acted improperly. The Co-Executor was found to lack understanding of her duties and was unfit to serve.
Removing a fiduciary from office is not easy. The Court requires that specific acts of wrongdoing be documented. Mere speculation or personal dislike for a fiduciary is insufficient for removal. The Courts tend to respect a testator's choice for Executor or Trustee.
I have represented many individuals in breach of fiduciary duty and accounting estate and trust accounting cases. Call me now for a free review of your estate or trust issue. We provide reasonable and flexible fee arrangements and personal representation.
New York Trusts and Estates Attorney Jules Martin Haas has helped many clients over the past 30 years resolve issues relating to probate and estate settlement throughout New York City including the Bronx, Queens, Brooklyn, Manhattan, Nassau and Suffolk County. If you or someone you know has any questions regarding these matters, please contact me at (212) 355-2575 for an initial free consultation.