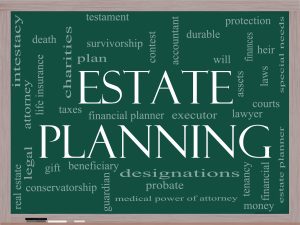 After the death of a decedent, a proceeding may be commenced to probate a Last Will and Testament.  Probate proceedings are filed in Surrogate's Court in the county where the decedent resided.
Various individuals may want to contest the Will.  Most commonly, objectants are the decedent's distributees or next of kin who feel that the Will is invalid for one reason or another.  Surrogate's Court Procedure Act (SCPA) Section 1410 entitled "Who may file objections to probate of an alleged will" delineates the persons who have such rights.  Clearly, an heir at law may engage in a contest since they most likely would be adversely affected by a Will which may diminish or eliminate their intestate share.
The New York Probate Lawyer Blog contains many posts about Will contests and Surrogate's Court litigation.  These types of cases are usually very difficult because the Surrogate's Courts tend to prefer that a decedent's wishes as expressed in a written Will be given effect.  Also, a document that is prepared and signed under attorney supervision is given certain presumptions of legitimacy.  A recent Manhattan estate case decided by Manhattan Surrogate Nora Anderson on October 30, 2020 provides a simple example of such a situation.  In Estate of Memeh, the Court dismissed objections to the probate of the Will.  The various points made by the Court included the following:
The document contained an attestation clause which provided that the decedent declared and published the paper as his Will to the attesting witnesses, in their presence, and the witnesses after being requested by the testator and in his presence and in the presence of each other, signed as witnesses. The Court pointed out that there was a presumption of regularity where there was a valid attestation clause along with a self-proving affidavit.  In addition, the Will was executed under the supervision of an attorney.  Such fact also provided a presumption that the Will was properly executed.  Based upon these circumstances and others, the Court found that the Will was duly executed and that no forgery was involved in the process.
The Court also reviewed testimony given by the attorney draftsperson and affidavits from the attesting witnesses. It was found that the decedent had testamentary capacity to execute the Will.  Testamentary capacity is comprised of a number of factors such that a decedent understood the consequences and nature of signing a Will, and that he had knowledge of his assets as well as the natural objects of his bounty.  The Court found that the evidence clearly supported a finding of capacity.
The Court also found that the objectant, who did not oppose the motion to dismiss the objections, did not present any basis to find that the Will was the subject of undue influence or fraud.
As can be seen from the Memeh case, a Last Will that is prepared by and executed under the supervision of an attorney receives a presumption of regularity which can forestall objections.  Also, when a Will contains an attestation clause and witness affidavits, these aspects of Will preparation combine to provide a basis of validity.  Of course, there are many cases where a Will may be invalid due to improper execution, lack of testamentary capacity or undue influence.  However, it is important to examine each case to see if there are any indicia of improprieties upon which objections may be sustained.
I have represented many individuals in contested Will cases, both petitioners and objectants.  Call Me Now for a free confidential review of your probate or estate matter.  We provide reasonable and flexible fee arrangements and personal representation.
New York Trusts and Estates Attorney Jules Martin Haas has helped many clients over the past 40 years resolve issues relating to guardianship and probate and estate settlement throughout New York City including the Bronx, Queens, Brooklyn, Manhattan, Nassau and Suffolk County.  If you or someone you know has any questions regarding these matters, please contact me at (212) 355-2575 for an initial free consultation.